Share
American roots music is cohabited by blues and folk. Blues music is primarily emotional—lots of moaning and full of inclusive themes—and folk music is primarily intellectual, offering stories with moral or political centers. In the Sci-fi world, Star Wars is the Robert Johnson and Star Trek is the Woody Guthrie, or so it was. 
The story begins about three years into the USS Enterprise's five-year mission laid out in the original series, and, as the film so gracefully puts it, things are getting a little "episodic." Both Kirk and Spock are questioning their purpose on the Enterprise, each feeling crushed under the shadow of a father figure. On a routine rescue mission, things go awry, and the crew ends up in an otherworldly POW camp overseen by Krall, an unknown alien burdened with the desire for retribution. Luckily for the Enterprise crew, being faced with seemingly impossible odds and overcoming them with pooled ingenuity is their specialty. 
Returning is the excellent cast from the two previous entries, along with some welcome additions. Idris Elba is playing the black hat this time around, though Krall's heavy make-up and one-note behavior doesn't do much to showcase Elba's talents. If anything, Krall is just there to serve Kirk's story, acting as a hideous reflection of Kirk's lesser inclinations. On the other hand, "Kingsman" star, Sofia Boutella, shines as Jayla, a self-sufficient alien with a Krall-shaped chip on her shoulder.  
"Star Trek Beyond," like most of the Trek films, abandons the big ideas of the television shows and, instead, throws its weight against the storied characters. But it's all well and good, for the original characters and relationships cooked up by Gene Roddenberry are strong enough to keep the thinnest story afloat. And seeing as this is Star Trek's 50th anniversary, it only seems right that the focus be on the characters. I can't imagine any long-time fan not cracking a smile when Kirk opens his closet to find it full of identical, long-sleeve, yellow shirts, or shedding a tear when Spock finds a picture of Spock Prime with his crew.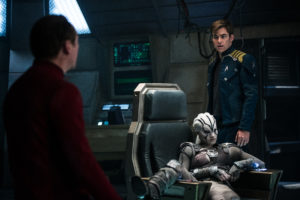 I prefer my Star Trek talky, and "Beyond" isn't that. Once the action gets going, it goes at warp 9. There isn't even a tense sit-down with the villain where he lays out his master plans and trades ideologies with the hero—a favorite trope of mine. But with the Enterprise's savage, visceral ravaging by a swarm of suicide bombers, as well as the clone army of Kirks on motorcycles leaving crystal walls—yes, walls—in their wake, the holes in my expectations were filled with pleasant surprises. It goes to show that action set-pieces don't have to be big, dumb, digital creations smashing into one another; they can be just as creative and fulfilling as any other aspect of a movie. 
(Although, the Trekker in me did cringe a bit when the Enterprise blares the Beastie Boys while riding upon a flame of destruction. I couldn't help but remember the scene in "The Voyage Home," when Spock nerve pinches the guy blasting punk rock on his stereo.)
"Star Trek Beyond' isn't a good Trek movie, but it's a great summer popcorn flick. There won't be any college papers written on it, but imaginations will ignite. Now that Star Wars is back, and Star Trek doesn't have to keep its seat warm anymore, let's let Trek shake that silly space opera vibe and get back to dissecting the universe. Let Johnson play the blues and Guthrie tell the tales.
3.5 out of 5 stars